Tue, 2021-02-23

Today's Black History Month Trailblazer: Sergeant Fiona Miller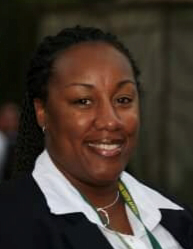 Sergeant Miller is a Bermudian Officer who joined the Bermuda Police Service (BPS) in June 1991. During her varied tenure as a Police Officer, Fiona has served in a number of key positions within the BPS. She has received specialist training and was promoted to the rank of Sergeant in June 2005.
She holds the distinction of in 2001, becoming the first BPS Female Motor Vehicle Driving Instructor and remains active to date.
Fiona is also a member of the BPS Critical Incident Stress Management Team. She has held post as OIC Cadet Training as well as a Recruitment Officer for the Service and has been a member of the recruitment team that has travelled to the UK, Canada and the Caribbean to recruit officers for the BPS.
In her present posting as Sergeant in the Court Liaison Office she continues to coach and mentor her staff and maintains excellent working relationships with BPS stakeholders and partners working in Bermuda's Criminal Justice and Court systems.
In June 2021, Fiona will celebrate 30 years of service to the people of Bermuda. In addition to her policing duties, Fiona is an Executive Member of the Bermuda Bicycling Association and a social member of the Winners Edge Bicycle Club.
In 2019, she earned her certification in First Aid with the St. John's Ambulance Brigade and involves herself in assisting and supporting seniors in the community.