Sat, 2021-02-27
Today's Black History Month Trailblazer: Sergeant Cerepha Bridgeman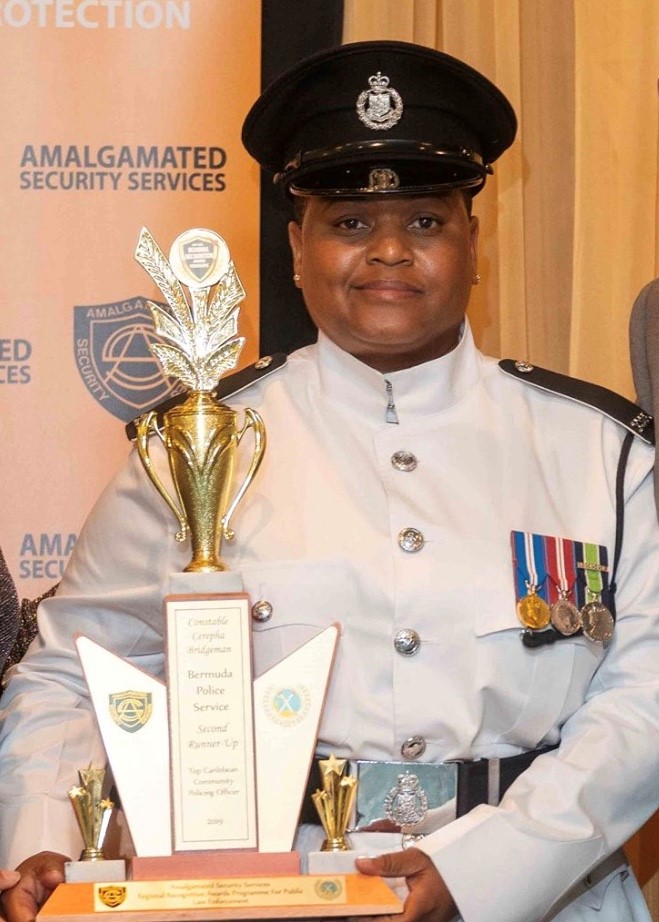 Cerepha Bridgeman, is from the island of Barbados. She joined the Bermuda Police Service in September 2008.
She has worked as a uniform patrol officer and was subsequently transferred to the Community Action Team as a Community Officer.
Sergeant Bridgeman exemplifies the epitome of a community officer and regularly assist with community oriented tasks, supports her colleagues and other agencies with community outreach and at risk youth and the elderly.
She has received specialized training in various areas and in November 2017, she successfully completed her certifications in Crime Prevention Through Environmental Design (CPTED), in addition, she is an instructor in Gang Resistance Education and Training (G.R.E.A.T.), a volunteer life coach with the MIRRORS Program.
As a result of her outstanding commitment to the Mirrors Program in 2018, she was awarded the Mirrors Silver Award. Also in 2018, Cerepha was nominated in the ACCP Regional Awards in the category of Top Caribbean Community Policing Officer and placed a respectable second runner up position.
In June 2019, Cerepha was promoted to the rank of Police Sergeant and continues to work in the role of Community Officer as her dedication to the community has resulted in her receiving the Volunteer of the Year Award for the Mirrors Programme in July of 2020.
Her public-spirited character and willingness to go beyond have been demonstrated in many ways as she consistently gives of her best as she works within the community whether on or off duty.
Sergeant Bridgeman's commitment to the BPS and the communities in which she serves is an excellent example of an outstanding community officer whose dedication to volunteering is an impressive work-life balance second to none.