Tue, 2021-02-23

Today's Black History Month Trailblazer: Inspector Charlene Thompson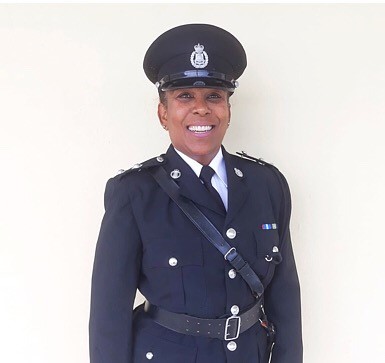 Charlene joined the Bermuda Police Service (BPS) in April 1995, and was a graduate from Recruit Foundation Course #50. She was also awarded the coveted "Baton of Honour" as the Best Overall Recruit.
During her employment with the BPS, she has held several key positions including, the Criminal Investigations Department, Community and Juvenile Services, Serious Crime Unit, OIC Training Department and the Organised and Economic Crime Division.
Another first for Charlene was to be the first female Police Inspector, Guard Commander to lead the BPS Guard in the annual Queen's Birthday Parade celebration. More recently she was posted as OIC Roads Policing/Airport Unit and is presently posted to the Commissioner's Office on Special Projects.
In addition to her policing duties, Charlene is the mother of two young ladies Jasmine and Kiara and three grandchildren, ages 11, 9 and 2 years old.
She spends her weekends baking the best culinary goods, sewing or quilting, bed spreads and handbags, all of which she donates to local charities.
She is an avid sports person and maintains a healthy lifestyle. In 2005, 2008 and 2009, she participated in the Annual Bermuda Day Marathon. In 2007, she had the privilege to represent Bermuda as part of the first Women's National Cricket team.
Team which participated in the Women's Cricket World Cup, held in South Africa. Thank you Inspector Thompson for your contribution to help "Make Bermuda Safer."