Sun, 2021-02-28

Today marks the end of our Black History Month Trailblazer series. We hope you enjoyed getting know who we are and we would like to thank you all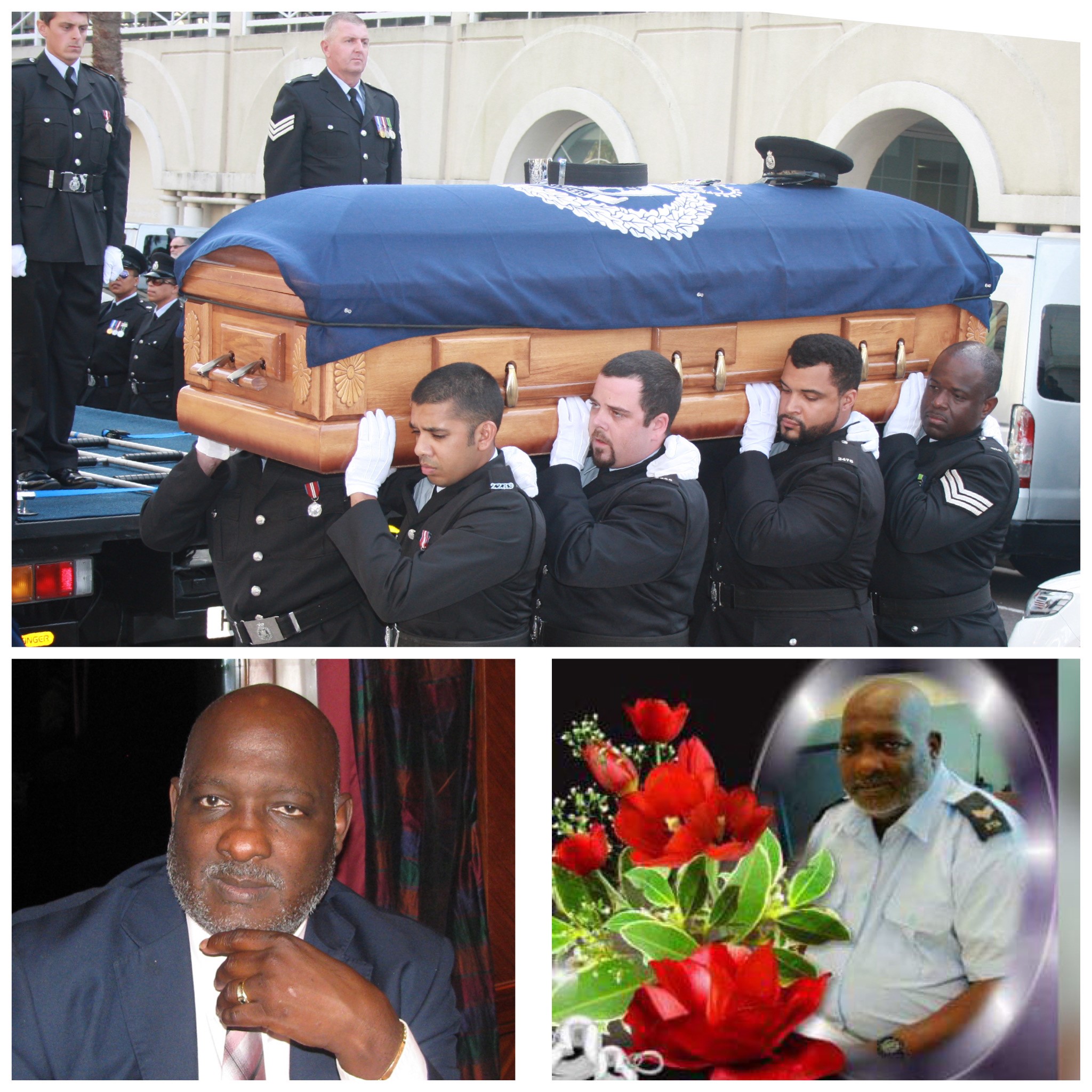 for your likes, shares and kind remarks on social media for our past and present trailblazers.
There are many more officers and staff who have achieved great things during their careers with the BPS, however there is no way we can cover them all in one month. With that said, we will continue to showcase our BPS trailblazers throughout the year.
We will end our BPS Black History Month Trailblazer series with none other than, the late Sergeant Gregory Grimes who tragically lost his life while on duty in December 2016.
Our final Black History Month Trailblazer: Sergeant Gregory McArthur "Porky" Grimes
On 14 December 2016, the Bermuda Police Service and the community were deeply saddened to hear the tragic news that our good friend and colleague Sergeant Gregory Grimes passed away suddenly whilst on duty.
Gregory was an exceptionally popular policeman who always took the time to mentor younger police officers. We know that many of our present and recently retired members will have fond memories of working with Greg, who in 2009 and 2011, was chosen as "Police Officer of the Year and Sergeant of the Year."
Gregory joined the BPS as a police cadet in August 1978. He was promoted to Police Sergeant in April 1991, and he served in a variety of posts including Central Uniform, Criminal Investigation Department, and Special Branch.
For the years prior to his passing, he held the post of Senior Custody Sergeant. In this role Gregory managed the custody facility at Hamilton Police Station and he had direct leadership of new police recruits and probationary constables. His professional commitment and high performance earned him the award of Officer of the Year twice in a five-year period. He was the recipient of several Commissioner's Commendations, Police Long Service Awards and Letters of Good Work and in June 2016, Sergeant Grimes was awarded the Overseas Territories (Police) Medal for meritorious service in the Queen's Birthday Honours List.
Gregory made a positive impression on many lives during his illustrious career and after retiring in 2016, he was request to return to the BPS; and continued to share his knowledge and experience.
Outside of policing, Gregory served as a board member and former chair of the Bermuda Football Association (BFA) as well as a FIFA referee. He was actively involved in all aspects of football in Bermuda for over 20 years, including youth football, coaching and refereeing. He represented Bermuda internationally as part of the BFA's delegations to matches held by the Caribbean Football Union and CONCACAF.
In addition, he loved to travel and was always at the ready with bags packed to take a Cruise, and had travelled throughout the Caribbean, Alaska, the Mediterranean and many other places.
On his passing, a recognition funeral was authorized and Gregory's contribution and memory was honoured and he was celebrated with, Full Police Honours at his Funeral Service which was held at The Cathedral of the Most Holy Trinity on Church Street in Hamilton at 11am on Wednesday 21st December 2016, The Cathedral was packed to capacity and overflowing with Police Senior Command, Government Officials, Associations, Sports Clubs, family, friends, and many of Greg's present and former colleagues who had served alongside him in the Bermuda Police Service.
In his tribute to Sergeant Grimes, at his funeral Commissioner Michael DeSilva, stated, "In May of 2015, I submitted an application to the Foreign and Commonwealth Office through Government House in Bermuda. In part, the application read:
"Sergeant Grimes is highly regarded in the BPS as an exemplary, compassionate and energetic supervisor. He provides model leadership to his staff, inspires positive morale, and delivers professional coaching and mentoring to junior staff. He has gained a reputation as a "steady hand at the wheel," and his professional commitment and high performance has earned him the award of Officer of the Year twice in the last five years."
"Sergeant Grimes is regarded as highly competent in the custody suite and he is considered to be the most experienced and capable custody sergeant serving in the BPS. His leadership has made a significant difference to the organisation by helping to provide a smooth, trouble-free transition to our new custody facility. His professional manner and excellent skill sets have helped the BPS navigate through a sea-change brought on by legislative amendments, while protecting the professional performance and reputation of the BPS in the area of custody and detention. Sergeant Grimes' service to policing in Bermuda has been meritorious and deserving of recognition and it is my honour to make this recommendation."
Sergeant Gregory McArthur Grimes, was, and still is, held in the highest regard by both his colleagues in the BPSD and the Community, and he was an exceptional role model for all of those who he came into contact with and followed in his footsteps. May he continue to Rest in Peace.