Wed, 2021-02-24

Today's Black History Month Trailblazer: Former Inspector Jean Vickers (nee Mattis)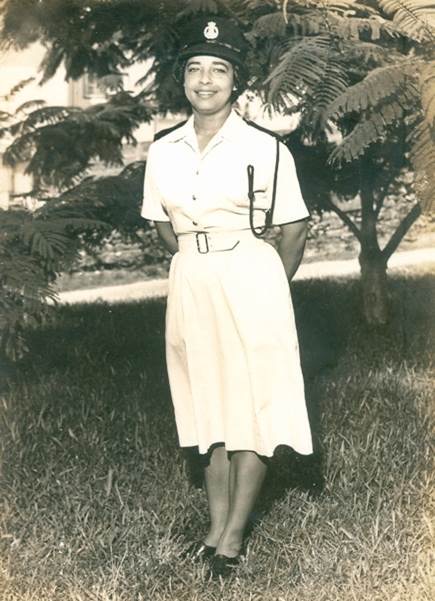 Jean Vickers (nee Mattis) made history as our first Bermudian female police officer when she was recruited by then Commissioner George Robins who made the decision to recruit women into the Bermuda Police in the early 1960s. Jean joined the BPS in January 1962, attending our first 3 month Basic Training Course #1 along with two other females, Betty Osborne and Gwendolyn DeGrilla.
These three were posted to the newly formed Policewomen's Department then headed by Inspector Isobel Lee who had been hired from the UK to set up the Department. Initially, our female officers dealt with such matters as offences against women including rape, indecent assaults and domestic violence, the ill-treatment of children, and handling female prisoners when arrested, but they soon began dealing with a wider variety of police work. Jean excelled in the job and was soon awarded a Commissioner's Commendation for investigating a forgery case in 1964, and a second Commendation in 1966 in connection with a drugs case.
In 1968 Jean was promoted to Sergeant and second-in-charge of the Police Women's Department, and in 1977, when W/Inspector Lee retired, Jean was promoted to Inspector-in-charge of the Department. Having earned the distinction of becoming the first Bermudian Female to be promoted to the rank of Police Inspector.
While there, Jean was instrumental in setting up the Juvenile Liaison Scheme (JLS) which could be said to be the most effective project ever undertaken by the BPS to deal with juvenile crime. Never one to stand still, Jean also founded "The Black Stockings" a fund-raising charity involving all the policewomen and traffic wardens which held numerous events to support local charities and young people in the community, namely, "Meals on Wheels, sending children on local and international Outward Bound Courses, and enlisting teenagers in the popular "Up With People" organisation.
Under Jean's command the role of policewomen steadily expanded in all areas of police work, and by the time she retired in 1987 there were at least 18 policewomen in the BPS. Jean was the first woman to serve as Supreme Court Officer, and the first woman to serve as ADC to the Premier. Jean was awarded the Colonial Police Medal (CPM) for Meritorious Service in 1987, and the CPM for Long Service and Good Conduct in 1987.
Jean was, and still is, held in the highest regard by both the BPS and the community, and has been an exceptional role model for all those who have followed in her footsteps.