Fri, 2021-02-05
Today's Black History Month Trailblazer: Former Deputy Commissioner William Maurice "Syke" Smith.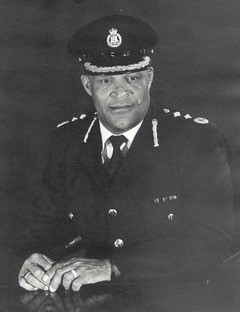 William Maurice Smith, better known as "Syke" Smith was one of the most charismatic and popular members of the Bermuda Police.

Born in Pembroke in 1930, Syke attended Central School and Berkeley Institute where he excelled in his studies and was a Lieutenant in the Berkeley Cadet Corp. He clearly enjoyed wearing a uniform and he joined the Bermuda Police in January 1951 at the age of 21.

After a spell in Central Division (Hamilton) he transferred to Operations, and in March 1954 he was again transferred, this time to CID where he went on to be awarded 7 Commissioner's Commendations for successfully investigating a variety of criminal cases including burglary, rape, breaking & entering, wounding and arson. He spent time in Eastern CID, before moving to Central CID where he was promoted to Sergeant in 1960. The following year he was chosen to attend Bramshill Police College and two years later he was promoted to Inspector and transferred to OIC Eastern CID.

Syke went on numerous overseas recruitment trips to both the U.K. and the West Indies, and there will be literally hundreds of young police officers who will remember being recruited by him.

During a spell as Supreme Court Officer, Syke regularly performed the duties of Black Rod for the ceremonial Opening of Parliament (he is believed to be the first officer of colour to perform this duty). He rose steadily through the ranks and in 1981 he was promoted to Deputy Commissioner. Happily married to his wife Norma they had five sons, and even while raising their family Syke continued with his academic studies and was actively involved in Heard Chapel AME Church, and was always involved in other community organisations.

Tragically, just 3 months after his promotion to Deputy Commissioner, Syke passed away suddenly on 15th June 1981, which was a great loss to his family, to the BPS and to the wider community. Throughout his police career Syke was always very popular due to his dedication and professional ability, his great sense of humour and his respect for people regardless of their class or colour. He was a true Trailblazer.

You can read more about William Maurice "Syke" Smith in the Hall of Fame on our ExPo website at:
http://expobermuda.com/index.php/latesthof/72-wssmith.