Mon, 2021-02-15
Today's Black History Month Trailblazer: Former Commissioner Frederick C. B. "Penny" Bean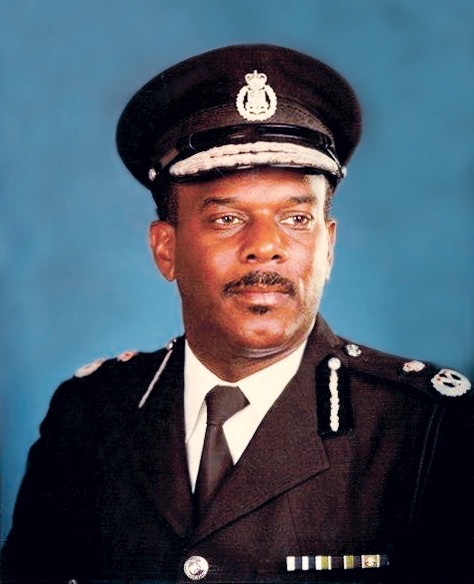 Commissioner Frederick C. B. "Penny" Bean, joined what was then the Bermuda Police Force in 1956 as a young constable, aged 19. He rose through the ranks to become our first black Bermudian Commissioner of Police in 1981, a position he held until his retirement on 23 March 1990.
During his 34 years of service, Commissioner Bean earned the Colonial Police Medal for Meritorious Service, awarded to him after the Chief Justice commended him for disarming an armed robber. He also earned the Colonial Police Long Service Medal and the Queen's Police Medal for Distinguished Service. During his time in the senior leadership of the police, Mr. Bean forged closer ties to the United Kingdom, the United States of America and the Canadian National Police Services. He also established a joint Bermuda Police and HM Customs Drug Importation Squad.
Commissioner Bean created the "Police Community Relations" programme and the first Bermuda Police Fraud Squad. He also improved the living quarters for single officers and enhanced our internal communications, by acquiring a sophisticated, secure, multichannel police radio system and Emergency 911 system, held within the combined Operations Centre at Prospect. Upon retirement, Commissioner Bean was named to the Order of the British Empire.
At his retirement, Commissioner Bean is quoted as saying "I have enjoyed every moment of it. I have no regrets, and if I had a choice to do it all over again, I would not hesitate. I hope my tour of service will serve as an inspiration to other young Bermudians coming along."
Heartbreakingly, Commissioner Bean passed away suddenly on 8 December 2018. The passing of former Commissioner of Police Frederick "Penny" Bean OBE QPM represented a monumental loss for the Bermuda Police Service (BPS) and the local community at large. The funeral for Commissioner Bean was held at the Cathedral of the Most Holy Trinity on Church Street in the City of Hamilton at 2pm Monday, 17 December, 2018.
To pay honour and respect to the first black Bermudian Commissioner of Police, a number of tributes were organised within the BPS and publicly to celebrate his life and legacy and in September 2019, the Commissioner of Police fittingly re-named the BPS Media Room, "COMMISSIONER FREDERICK C. B. "PENNY" BEAN Community Meeting and Media Room."
We take this time to thank and acknowledge his significant contribution made to the BPS and the people of Bermuda.