Black History Month Trailblazer: Former Chief Superintendent Oliver Salsbury Winfield "Chief" Trott QPM CSM LSM
Wed, 2021-02-17

Today's Black History Month Trailblazer: Former Chief Superintendent Oliver Salsbury Winfield "Chief" Trott QPM CSM LSM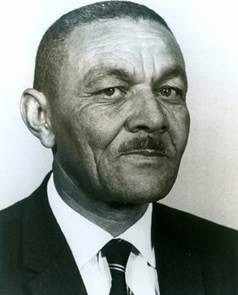 Chief Superintendent Oliver "Chief" Trott was, without doubt one of the most popular and respected officers to ever serve in the Bermuda Police Force. Although his later years were spent as Chief Superintendent in Uniform, it is as a brilliant detective that he earned his richly deserved reputation. Oliver, was born in St. George's on 24th July 1914, the eldest son of Mr. and Mrs. Alfred Trott. Their family home was the yellow cottage standing just behind Somers Gardens at the corner of Shinbone Alley.
We're not sure what compelled Oliver to do so, but in 1939 at the age of 24, he made the decision to join the Bermuda Police Service, at a time when men of "colour" had great difficulty making progress through the ranks. Oliver spent his early years on the Force in uniform, first at Hamilton Police Station and then as Paget Parish Constable. He spent some time serving in Somerset, however, in 1952, he was transferred to CID which was clearly the turning point in his Police career. He excelled as a detective officer and spent most of the rest of his distinguished career in CID. His rapid progress through the ranks was a testament to his ability and dedication. He was promoted to Detective Sergeant in 1955, and just one year later, in 1956, he was promoted to Detective Inspector. That was an exceptionally quick promotion by any standard. Five years later, in 1961, he was promoted to Chief Inspector in charge of Central CID where he cemented his reputation as an outstanding detective. During his time in CID Oliver was involved in the investigation of many serious crimes, including the Warwick murders, and on several major cases he worked closely with Scotland Yard Detectives brought in from abroad to provide assistance.
In 1967, Oliver was promoted to Superintendent in uniform and became Bermuda's first recruiting officer in charge of recruitment and training. Throughout most of the 1960s he interviewed literally hundreds of potential recruits and travelled to the U.K and to the West Indies to do so, as well as interviewing Bermudian applicants for the Police Force. Oliver was the first Chairman of the Bermuda Police Association and was instrumental in pushing for the intermingling of all police officers, regardless of race, in a social setting at the Police Recreation Club. He was an avid cricket fan and would often turn out to support the Police Force cricket team.
In 1968 Oliver was promoted to Chief Superintendent, a position he held until his retirement from the Force on January 29th, 1972, after a career spanning over 33 years. During his illustrious service Oliver received numerous letters of good work and Commissioner's Commendations for his expertise in solving serious crimes and in 1962, he was awarded the Police Long Service Medal, the Colonial Police Medal for Meritorious Service in 1968, and in 1971, he was awarded the Queen's Police Medal for his Distinguished Service.