Sat, 2018-01-06
At 10:22am Saturday police and other first responders attended a report of a car submerged in the waters off of Astwood Park/Cove.
Presently the area has been cordoned off whilst officers assess the situation.
We will keep you apprised of any new developments.
1pm Update: Presently the overturned car is still in the waters off of Astwood Park/Cove. The police divers tried to ascertain whether or not anyone was in the vehicle. Unfortunately the surf is too rough and the tide is very high making it too dangerous for the divers and at this point it is still unclear whether or not anyone is in the car.
The area is still cordoned off and police are in the process of identifying the owner and or who was driving the vehicle.
5:45pm Update: At 5.10pm the Bermuda Police Marine Unit and Dive Unit were dispatched to the waters off of Astwood Park. Island Construction brought a crane to the scene, which then hoisted the car out of the water and it was ascertained that no one was in the car. Officers have now widened the investigation and they are now looking into the circumstances surrounding the car.
7:45pm Update: Officers have now widened their investigation and are looking for anyone who may have seen a female in distress in the area of Astwood Park in Warwick in the early hours of Saturday morning. Anyone who has any information on this incident is asked to contact Sgt. Clifford Roberts on 295-0011.
Specific Appeal: Police are seeking the public's assistance in locating 36-year-old Frederika Russell who was last seen at 5am Saturday morning wearing a black long sleeve buttoned up shirt, black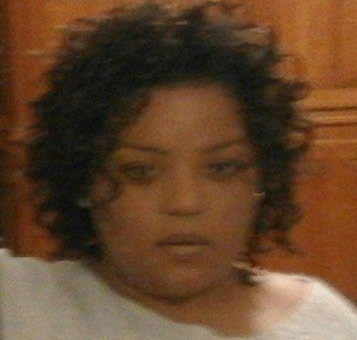 jeans and black boots (pictured right).
Her description: of heavy build, brown complexioned 5'3" tall and her hair is presently in locks. It should be noted that when she was last seen, she was wearing her locks in a bun.
Police are appealing for anyone who may know the whereabouts of Frederika Russell to please contact Sgt. Clifford Roberts on 295-0011.
9:30pm Update: The 36 year old woman involved in the car going overboard in the waters off of Astwood Park has been located unharmed. We thank the public for their assistance and an investigation into the matter is now underway.