Thu, 2017-12-14
Good day, I am Shakisha Minors Acting Inspector for the Community Action Team. As we prepare ourselves for the joys that the Christmas Season brings, let us not forget the opportunist
criminals whom are anxiously waiting to commit burglaries, robberies, thefts from vehicles and stores.
Here are some measures you can take to make it more difficult for would be criminals:
At home secure all your doors and windows whether away for a few seconds or several hours.
Ensure that your vehicles are secure at all times with no valuables through windows.
Keep all valuable items like purses, iPads, jewellery etc. away from windows and doorways.
Leave homes with an occupied appearance with a radio or light set on an automatic timer.
Ensure outside lights are on or have a sensor light to deter criminals during darkness.
Walk in well-lit areas or carry a small flashlight.
Be aware of your surroundings at all times and if suspicious persons are seen enter a nearby occupied establishment and do not hesitate to contact police.
When withdrawing currency from an ATM, do so at a secure location where you can view persons approaching from all sides.
When shopping, especially for women keep your handbag on your shoulders and do not leave it unattended for a moment.
Men, ensure that wallets are secured– buttoned or zipped in pockets.
When shopping with children, NEVER leave them unattended in vehicles and ensure you have an agreed meet up location in the event that you are separated.
Ensure children know how to identify storekeepers or security staff in the event they need help.
When out partying use the buddy system whenever possible and especially when going back to vehicles.
Keep your cell phone readily available in case of an emergency.
The Bermuda Police Service wants everyone to have a safe and happy holiday season. For more helpful Crime Prevention tips please visit the Bermuda Police Service website www.bermudapolice.bm under Crime Prevention Info.
Good morning, I am Detective Sergeant Clifford Roberts Jr. Today, the BPS would like to advise the community that as we are already in the festive season we want to remind homeowners, shoppers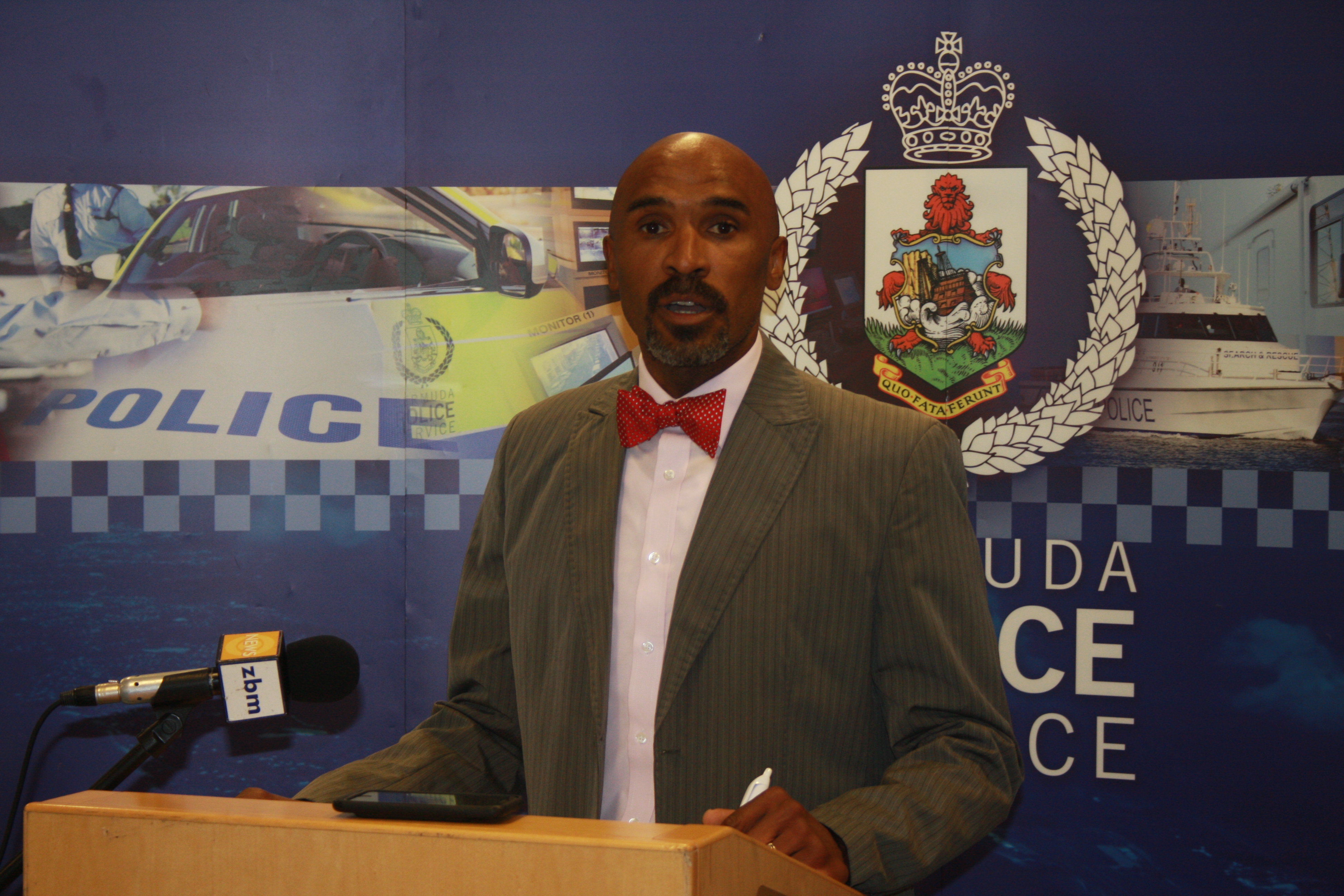 and business owners & staff to be extremely vigilant in an effort to minimizing the risk of becoming a victim of crime; which as we know increases during this time of the year. In particular burglaries / robberies / handbag thefts / shoplifting / chain snatches / credit card or ATM frauds / thefts from vehicles.
We're asking homeowners:
Ensure to lock windows and doors before leaving for work or going to bed (utilizing all safety mechanism)
If you plan to be out late, turn on outside security lights and consider an interior light being kept on
Avoid advertising recently purchased high end goods (electronics) – don't place boxes outside of home, discard at the dump.
Report suspicious vehicles or persons in your neighbourhood (take note of vehicle numbers and description of rider / driver and report (no matter how insignificant you may think) speak of ongoing inquiry
Don't leave large amounts of cash or jewellery lying about, put in safe place (safe boxes)
As much as you want to display your home Xmas decorations make every effort not to have gifts visible from the windows of your home
Ensure Closed Circuit TV & alarm system is operating
For those travelling abroad:
Communicate with neighbour tell them of travel – report anything suspicious (persons, activities, vehicles)
Have someone check on your property
Empty mailbox so it doesn't give impression no one is home.
Shoppers:
Avoid carrying large sums of cash
If using ATM machines go to a well-lit area make every attempt to obtain during the daylight hours, and minimize exposing PIN numbers
Ladies keep handbags close, don't leave them unattended whilst shopping
Don't leaves packages visible inside unattended vehicles
Make every effort to park in well-lit areas, and when returning to your vehicle have your keys readily available and travel with another person
Partygoers:
Avoid wearing flashy jewellery or exposing large sums of cash when socialising
Commercial Business:
We encourage employees to have more than one staff member opening / closing establishment
Make regular deposits and not to keep large amounts of cash on property
Request id when conducting debit/credit card transactions
Take note of persons attempting to pass counterfeit currency
Don't give credit / debit card information to unknown sources for business transaction
Ensure your CCTV & alarm system is working. Update Alarm company of available key holders
Report all matters to police 295-0011 or contact the confidential Crime Stoppers hotline: 800-8477 (TIPS).