LATEST NEWS, inside the BPS
15 Year Old Boys Arrested in Connection with Prowling Outside Home [Updated]
Fri, 2018-08-31

A 15 year old boy was arrested Thursday evening (August 30th) in connection with a report of prowling outside an Aubrey Road, Hamilton parish residence.
A second 15 year old boy was arrested today (August 31st), also in connection with this matter.
The incident was captured on the home's security camera system and shared via social media.
Advisory: Counterfeit Bermuda $50 Notes Currently in Circulation
Fri, 2018-08-31

Residents and businesses are advised to be vigilant for counterfeit Bermuda $50 notes currently in circulation, bearing serial number A/I 509979 and A/I 441162.
This week alone – after the arrest of two men – police have seized 35 fake Bermuda $50 notes, which are easily identifiable by their low quality and having the 'Longtail' portrait on both sides of the note.
Additionally, each note is poorly cut and contains none of the official security features, such as the hibiscus watermark or metallic thread.
Specific Appeal for Witnesses Regarding Seventh Road Fatality
Thu, 2018-08-30

The Bermuda Police Service Roads Policing Unit continues to investigate the circumstances behind the apparent single vehicle motorcycle collision that claimed the life of 18 year old Jen-Naya Simmons on 15th July, 2018.
The collision occurred east of the Aquarium on North Shore Road in Hamilton parish.
Two Men Arrested in Connection With Murder of Danshun Swann
Tue, 2018-08-28

The Bermuda Police Service can confirm that a 24 year old man and a 25 year old man were arrested today (August 28th) in connection with the murder of 25 year old Danshun Swann and both men remain in police custody at this time.
A 19 year old man arrested Monday (August 27th) in relation to the melee that occurred around 12:10am that day outside Southampton Rangers Sports Club has been released on police bail pending further enquiries.
Driver Hurt in Sandys Parish Crash Saturday Treated & Discharged
Mon, 2018-08-27

At last check this afternoon (August 27th), the 25 year old male driver hurt in a single vehicle car crash around 1:25am Saturday, August 25th on Somerset Road in Sandys parish near the junction with Wilson Place had been discharged from the hospital, after receiving treatment for a leg injury.
Inquiries continue and any witnesses are still asked to call the main police telephone number 295-0011.
Murder of 25 Year Old Danshun Swann
Mon, 2018-08-27

Acting Detective Inspector Jason Smith – Good Afternoon.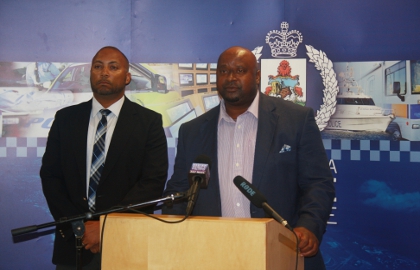 Sadly, the Bermuda Police Service can now confirm the identity of the fatal stabbing victim as 25 year old Danshun Swann.
At 12:10am today (Monday, 27th August) several 911 calls were received regarding a large fight involving a group of males outside Southampton Rangers Sports Club.
Two Visitors Robbed by Two Men on a Motorcycle in Hamilton Parish
Sun, 2018-08-26

Around 3:25pm Sunday, August 26th police officers responded to a reported robbery on Harrington Sound Road in Hamilton parish, near the junction with Quarry Road.
Initial information suggests that two visitors riding a rental scooter along the eastbound lane of Harrington Sound Road were approached by two men on a motorcycle – with the second man (pillion passenger) attempting to remove a handbag from the scooter's basket before brandishing a bladed article.


BPS PHOTOS


BPS TWEETS


bps facebook

security advice for women

Reduce the risk of
becoming a victim of crime with
these simple tips.
Read More >>

robbery prevention

Take steps to reduce the
opportunities for criminals to steal.
Read More >>